Firmware:
A-410 [01 Apr. 2014] | A-400 [12 Mar. 2014] | C-300 [13 Feb. 2014] | A-300 [24 Feb. 2014] | C-200 [11 July 2013] | A-200/A-210 [11 July 2013] | Popbox V8 [3 Dec 2013]
Just got your NMT | WIKI has the answers | Search the forum | Forum Rules/Policy | Firmware & Official NMT News | Popcornhour manuals
User(s) browsing this thread: 2 Guest(s)
How-to: Remux MKV & MKV>TS
07-12-2009, 07:10 AM
(This post was last modified: 07-12-2009 08:01 AM by chris57.)
Post: #1
chris57
Super Moderator




Posts: 30,437
Thanks Given: 761
Thanks Received: 2,737 in 2,188 posts
Joined: Oct 2007
Reputation: 54
How-to: Remux MKV & MKV>TS
Quite often in the forum you will see members asked to remux a file into an MKV or to Remux an MKV to a TS file.
The reason why remuxing is the best solution is that it is an entirely lossless process and it is very quick.
Certain file types are meant to go into MKV files and they are exceptionally easy to work with.
The reason why a TS file may play and an MKV not is due to the fact that playback of a MKV requires cpu power to parse the tracks prior to playback whereas a TS file does not. This small difference may mean that some MKV files that are encoded too high may play in a TS container due to the lack of parsing and its associated cpu power requirement.
First we shall do a simple remux to correct any index errors to see if the NMT can play the MKV after a remux.
Remuxing MKV
We shall use MKVMerge which is part of
MKVToolnix
. MKVToolnix has versions for most platforms.



Install MKVMerge and open the app:-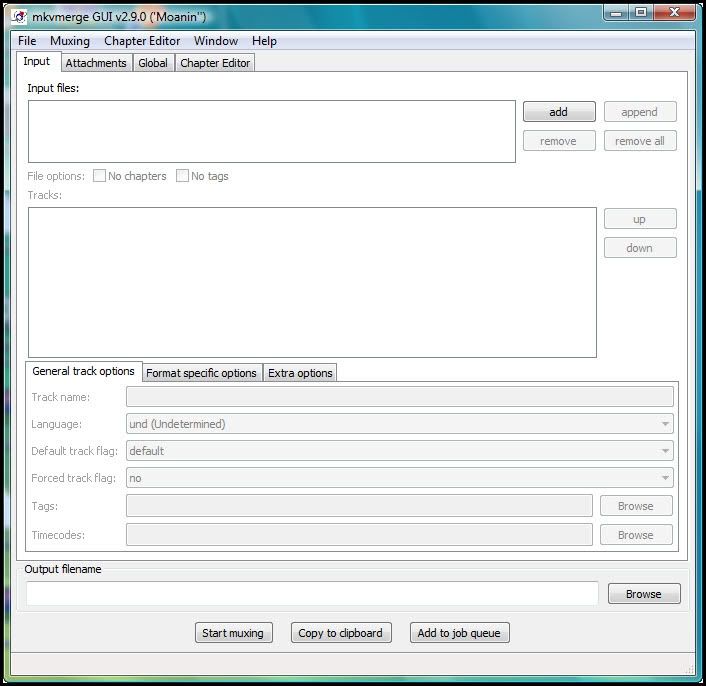 Click on the '
Add
' button to open the Browser to select your file:-
When the file is added the following boxes will be populated:-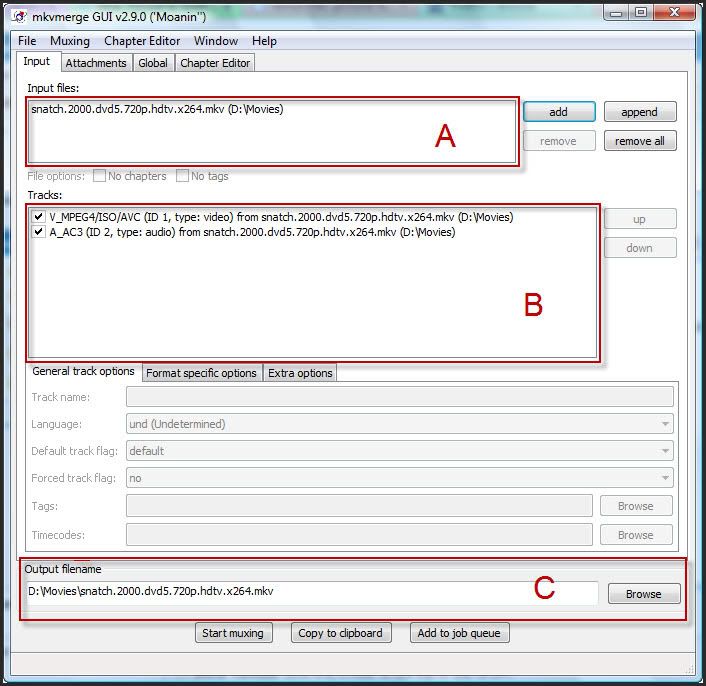 Box A - details of the file name and location. You can via the
Add
button Add further additional tracks such as DTS/AC3/Vorbis Audio Tracks or Subtitles if required. You can also
Append
further video files.
Box B - details of each track with the order of the tracks in accordance to track number. You can move tracks up and down the list through the
Up/Down
buttons to the right if required. You can deselect a track by unchecking the box to the left of each track.
Box C - details of the location and file name of the remuxed output. Make sure you change this via the
Browse
button as you cannot resave the same file you have opened in the same location. I tag mine with the change so if I'm simply remuxing I add remux to the filename, if I add subtitles then either sub or the language abbreviation. It is entirely your decision and of course you can rename before including a file in any jukebox or archives.
When you are happy with the location, filename, order or tracks etc simply press the '
Start Muxing
' button:-
A window will open showing you the progress and any error message if there are problems with the content or files.
Hopefully after about 5 mins you will have a properly indexed and NMT compliant MKV.
Remuxing to a TS
First thing we need to do is to install an app called
TSMuxer
. TSMuxer has versions for most platforms.



Opening the software after installation gives:-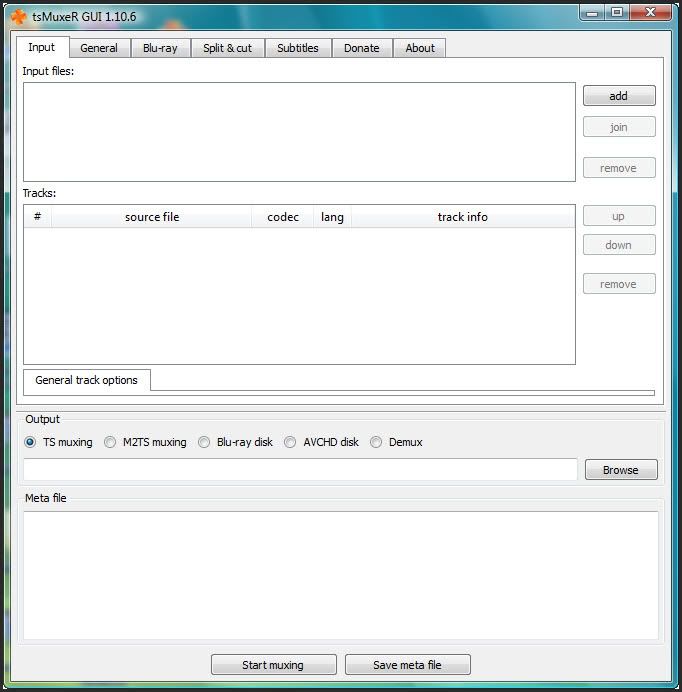 Select the
Add
button as before:-

You can again move tracks up/down, add additional tracks, and a whole lot of other features that I will not go into in this simple walkthrough.
When you are ready to output your TS file again make sure that you change the output file name and location before pressing '
Start Muxing
'
Again it is lossless and should take about 5 mins.
---
A400:

SD Card(Apps), HDMI
C200:

USB(Apps), BD ROM (SH-B083L(SB01)), HDMI
CAT6 Wired Network:

TV Panasonic TX-P42G20, HP ProCurve 1400-8G, Netgear GS-608/605, Synology CS407
Possibly Related Threads...
Thread:
Author
Replies:
Views:
Last Post
video with remux AAC to AC3: file played once, then refuses to play any other file
cpbox
0
1,895
12-13-2012 10:00 AM
Last Post: cpbox
Problem playing files (need Remux)
stone28
21
6,484
08-25-2012 03:19 AM
Last Post: paulw2
no video image- A-110 -tried remux
useLsprak
3
1,982
11-07-2010 01:44 AM
Last Post: primetimeguy
rough playback of a vc-1 remux
tennisbgc
0
913
09-05-2010 10:32 PM
Last Post: tennisbgc
BluRay remux (mkv, m2ts) playback issue with most of my files (previously not)
tripkip
2
5,339
08-22-2010 10:37 AM
Last Post: chris57
best way to remux High@L5.1 mkv so they play
De1Phi4n
9
6,120
05-19-2010 04:26 AM
Last Post: De1Phi4n
Video wont play / Can't Remux It Neither
rax369
1
1,349
09-30-2009 11:57 AM
Last Post: chris57
Video doesn't play. Remux?
street_samurai
3
2,588
08-08-2009 07:14 PM
Last Post: street_samurai
The Martix - VC-1 Remux - performance issue
bbbbbb8us
4
2,164
03-28-2009 08:09 AM
Last Post: FLaSH
is it still a good idea to remux 1080p mkv with DTS to .ts?
De1Phi4n
14
6,587
03-13-2009 05:43 AM
Last Post: De1Phi4n